Jeff Van Damme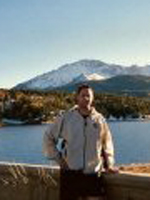 A natural leader and competitive athlete, Jeff has been an active team member in such sports as rugby (Assistant Captain), swimming (Captain), football, hockey, weightlifting, soccer, cross-country running, and cricket. As well, Jeff was a successful competitive bodybuilder for six years. Jeff obtained a Bachelor's Degree and a Master's Degree in Kinesiology and, during this time, his mission became very clear to him. He decided that he wanted to dedicate his life to providing a holistic, client-centered approach to training. Jeff realized his dream when he opened "The Training Station" in London Ontario in 2002; and his clients consistently praise him for his knowledge, his patient but firm coaching style, his passion, and his amazing outcomes.
Jeff focuses on the outcomes his clients need whether it be cardiovascular exercise, health risk factor assessment, weight training, and sport performance by combining his solid academic background and certifications, rigorous personal standards, and substantial experience to maintain both a perfect safety record and highly motivated clients. His track record of developing young, competitive athletes to sustain their competitive level and withstand the associated physical rigors – accident free – is second to none in the London-Middlesex area.
Jeff is very proud of his many clients who have stuck to their programs and achieved their dreams; and he believes that developing personalized goals for each and every client is the driving force behind their success. Working one-on-one in a goal oriented environment, allows Jeff and his clients to achieve maximal results – whether it be adding 15 pounds of muscle, winning a spot on an NHL hockey team, securing an athletic scholarship to a US university, or simply making a lifetime commitment to becoming – and staying – more physically fit.
Jeff actively pursues his commitment to lifelong learning by attending accredited international conferences and has been mentored in his craft by Peter Melanson (Head Strength & Conditioning Coach for the US Olympic Committee 2005-2008) and Mike Favre (Strength & Conditioning Coordinator for the US Olympic Committee 2004-2009), at the United States Olympic Training Center in Colorado Springs, Colorado USA. At the USOC, Jeff was able to hone his craft and collaborate with Peter, Mike, and other leaders in the field of Sports Performance.
Jeff holds two highly-regarded training certifications: National Strength and Conditioning Association (NSCA) and is a Certified Strength and Conditioning Specialist (CSCS) October 2004 - present; USA Weightlifting Certified Sports Performance Coach (USAW-SPC) November 2005 - present.
He has published two articles in "Human Movement Science".